Being a businesswoman is not an easy task. Especially in today's competitive business landscape, you'd have to fight against deep-rooted patriarchal norms, discrimination based on sex or gender, and other disadvantages. This includes challenges like the gender pay gap, the lack of women in positions of power, and systematic oppression.
However, with that being said, it is getting easier for women to pursue entrepreneurial careers over time. Though the overall business environment may still be unfair to women in businesses, it is now very much more possible to become a successful businesswoman today than ever before.
If you're lost and looking for a path to success, you've come to the right place. In this blog, we'll provide everything you'd need to know to overcome the patriarchy and become successful in business. Continue reading to learn more.
Believe in Yourself!
The first step to success is to believe it's achievable wholeheartedly. As a woman new to the business world, we understand that it's easy to feel like you don't belong. It is an unfamiliar environment dominated by men for far too long. But, if you don't believe in yourself, your business venture, and the services or products you offer, it wouldn't be possible to expect others to take your work seriously.
In this regard, we urge you to be confident in your abilities. It would be best to have confidence that your efforts could yield positive results and lead you to success. You can achieve your personal and professional goals in business if only you believe you can.
Plan it out!
With goals set in the business plan, you need to enact a strategy that aligns with what you want. Set defined objectives within reasonable and practical timelines. If you're going to prove your abilities in a modern workplace, you will, unfortunately, need to work twice as hard.
Yet, you should know that this effort will not be in vain. By organizing yourself and keeping distractions to a minimum, you're bound to have enough time to ensure efficiency. In addition, this would show your co-workers, subordinates, and peers that you are dependable and effective at your work.
Understand Your Business at Its Core
With a plan in action, it's worth asking yourself how well you truly understand your business. Is this the industry you've always dreamt of working in? Or are you committing to this company because of the money?
Either way, you should understand the ins and outs of your business regardless of the type of work you are engaged in. Even if things don't go according to plan, you should never let your enthusiasm fizzle. If it does, your work ethic is almost guaranteed to die.
Find the Right Balance
Though you might have your career goals planned out, you shouldn't disregard the importance of spontaneity, wellness, and mindfulness. Of course, it would help if you had fun during your spare time while dedicating yourself entirely to work during working hours.
Remember that you are the only one who can find this balance between work and life. To maintain your sanity, do not let work affect your social life, your family life, or any few hours of relaxation.
Feel Empowered
As a woman, it's easy to feel out of place and like you've reached a roadblock in your path to success. Although there may be some truth to these restrictions, you need to understand that worrying about failure won't help anyone. If you lack confidence, do not speak up, or take the backseat during projects, you cannot make an impression as a successful businesswoman.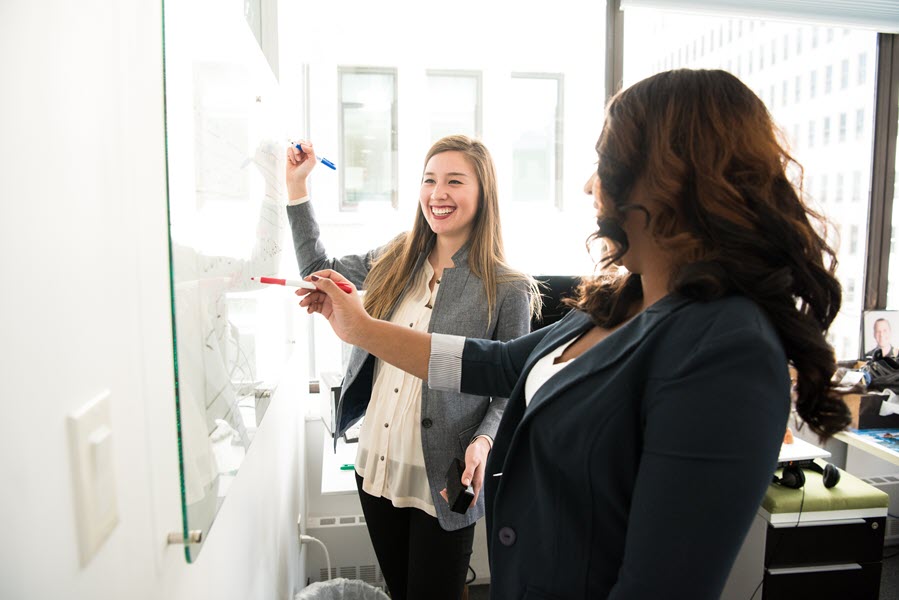 In short, you should always stay committed and ignore the naysayers. If you believe in your services and/or products, you should stick to them. It would help if you remembered that you could be a successful businesswoman because you have the necessary skills. Never lose your motivation, and do not let gender stigmas distract you.
Self-Care
Regardless of who you are, you are bound to get overwhelmed with stress when running a business. Unfortunately, this can have several negative consequences for your business and health. In particular, it can have some lasting effects on your life, including poor health, lost time with loved ones, or fatigue.
When it comes to becoming a successful businesswoman, you need to be able to put your physical and mental health first. To achieve this, you can try committing to the following practices:
Ask your friends for help whenever you need it, and consult a doctor if you have any medical-related issues.
Try to detach your work from home. You can do this by making it a rule not to reply to any emails or answer calls when you are off the clock.
Say "no" when you have to, even to clients or superiors.
Earn the Experience
To be a successful businesswoman, you cannot expect the experience to be handed to you on a plate. You have to work hard to earn the required expertise and experience in your field. In other words, you have to get your hands dirty. Be firm, know your limits, and learn how to interact with various personalities.
When considering financial challenges, you need to prepare yourself for the unpredictability of economic downturns and upturns. It would be best to manage these challenges while remaining competitive and positive. It can also help. It is time to get a mentor to teach you how to confront, overcome, or anticipate financial and customer challenges.
Stick With it
Finally, you need to make sure your business is always on the path to success. The key to becoming a successful businesswoman is persistence and never giving up.
Though there may be days when you'd feel like surrendering, you should remind yourself of what you are fighting for. Remember why you wanted to go solo in the first place and all you have achieved so far. Stick to the end because who knows what else you can accomplish!
To sum it up, becoming a successful businesswoman requires persistent hard work, courage, and faith in yourself. More than anything, you need to believe in your strengths and capabilities. The journey you want to embark on cannot be accomplished overnight; it requires dedication and commitment to your passion.
You must persevere and solve problems as soon as they arise. This isn't something that anyone can accomplish. You need to equip yourself with the right skills to excel in your industry. And, above all, you should stay motivated no matter what comes your way!
JOIN MY EMAIL LIST
Sign Up & Receive Monthly Business News Regarding Strategies For Your
Business, Be The 1st To Know About Our Seminars & Receive Updates
On Free Offers We Often Extend To Our Subscribers…
Don't Miss Out! Enter Your Email Below & Subscribe Today