The COVID-19 epidemic has had a significant impact on firms with remote staff. Many companies have made remote employment a permanent part of their operations. As a result, businesses have had to focus their efforts on building a more inclusive remote working environment that promotes diversity, equity, and equal employment opportunities. 
Organizations must focus on establishing employee diversity, equality, and inclusion (DEI) policies in the workplace to provide inclusive working circumstances. Employee job satisfaction improves because of DEI policies, which leads to lower employee turnover. Employers can recruit outstanding employees from a variety of communities and backgrounds by complying to DEI regulations.
For today's employers, promoting distant equity through DEI programs might be difficult. During the pandemic spread, the employees' mental health was already being strained by the lack of social and physical connections. Meetings in virtual settings, in other words, are prone to disruption, isolation, and confusion among remote workers. These challenges can be exacerbated in groups that include people from marginalized or minority groups.
On a more positive side, managers can take specific, proper steps to mitigate these challenges and contribute to a more inclusive and vibrant remote workplace. In a normal remote working environment, here are some tips on how to create diversity, equity, and inclusion.
1. Show empathy on a Personal Level
Empathy is the ability to understand others and share each other's feelings. In the DEI context, having empathy allows leaders to show their team members that they care about their coworkers. Empathy conveys a sense of belonging among team members. 
In other words, showing empathy is crucial for team members from any background – regardless of their nationality, race, ethnicity, gender, or sexuality – to feel like they are part of the team.
Employees can easily share their feelings in social interactions that are frequently part of traditional work environments. However, showing that you care is challenging in a remote setting. To offset this drawback, take time to know your colleagues personally. You can also ask your colleagues to be more open about how they feel regarding issues at work. Offer them some time to vent, if required. 
By making employees feel understood and acknowledging their difficult situations, you can take specific steps to address problems and create a fair working environment.
2. Enforce a Team-wide Commitment to Diversity, Equity, and Inclusion
It is essential to understand that some people may not be initially accustomed to DEI norms. This can be a potential hindrance to executing DEI initiatives within the company. To maintain a fair working environment, you may have to intervene on behalf of someone who feels adversely affected. Every team member should be aware of their accountability toward DEI guidelines and practices.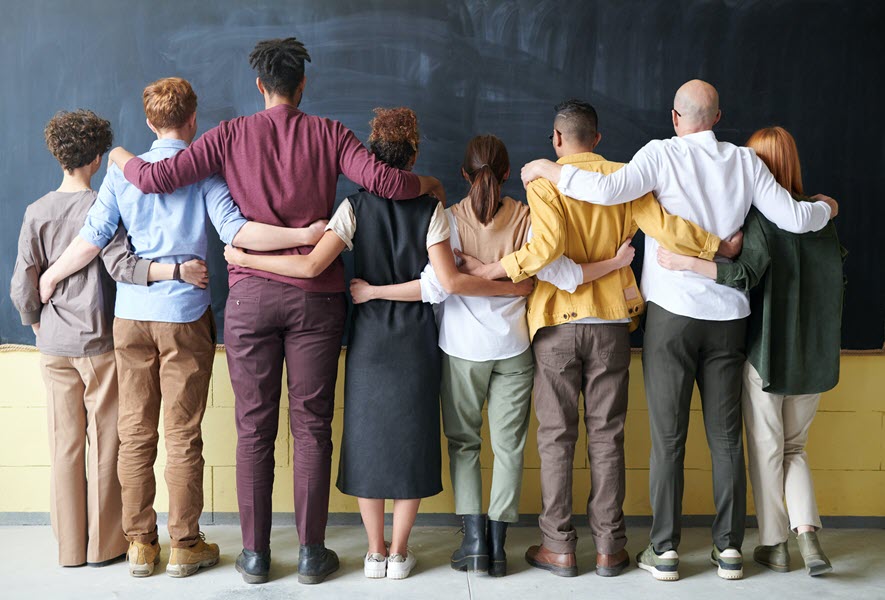 Encourage everyone to make a conscious effort to learn about each other. Ask your experienced team members to take time out to familiarize themselves with new faces (or voices). This way, they can understand their cultural background, values, and life experiences. Team members should also be required to discourage and report discriminatory and disruptive behavior.
Virtual meetings can make it challenging to understand what every team member says. But a team-wide effort toward DEI initiatives can quickly resolve any confusion that may arise due to an interruption or misunderstanding in a conversation.
3. Ramp Up Your Virtual Collaboration Efforts
In contrast to popular opinion, remote working allows cross-functional teams to communicate online and solve problems together.
Encourage teams from all departments in your company to collaborate virtually on all projects. Doing so would promote inclusion in remote work by enabling your team members to provide their input.
Remember to keep an eye on some of the finer details of virtual collaboration. Little things such as personally inviting team members, collectively setting meeting times, and agreeing on accessible technology, make it easier for employees to coordinate remotely.
An environment in which every voice matters goes a long way in creating a diverse, equitable, and inclusive workplace.
4. Human Resource Development through Virtual Training Programs
Remote work can be demanding for individuals not used to working with technology. Individuals working from home may also feel like they are being asked to do more in less time. Working with cross-functional teams also requires knowledge about different professional domains.
Considering these difficulties, you should be proactive when assessing skill development needs. For example, training your team members facilitates cross-functional collaboration by imparting the required skillsets for work-related challenges. In addition, virtual training can help reduce knowledge gaps between remote team members. 
Managers should also personally discuss team member development on a one-to-one basis. Ask your colleagues to set their professional and personal development goals and measure their progress against each plan.
lThis activity will give individuals an idea of how far they have progressed while indicating what additional skills need to be learned. As a bonus, everyone is motivated to achieve their goals! 
Therefore, for any equitable workplace, every employee must have equal training and career development opportunities.
5. Continuously Evaluate Your DEI efforts
No program is successful without a way to measure its effectiveness. Therefore, it is critical to periodically reevaluate any DEI efforts when creating an inclusive working environment. Recheck how your current HR practices maximize employee participation in your remote working environment. 
One way to do this is to see how well your employee compensation and benefits promote remote working or how you can further help team members who are struggling to work from home. In addition, be open to feedback from your employees in case they are experiencing problems.
A robust DEI program gives your company the ability to accommodate workers who have diverse needs, such as working parents, disabled people, students, caregivers, etc. If you have all of these areas covered, you know that your inclusion efforts are practical.
Conclusion
DEI efforts can take time and resources to implement in a conducive remote work environment. It requires collaboration and commitment from all team members of the organization. 
However, HR policies based on empathy, virtual collaboration, continuous learning, team development, and evaluation of outcomes go a long way in successfully implementing DEI initiatives.
JOIN MY EMAIL LIST
Sign Up & Receive Monthly Business News Regarding Strategies For Your
Business, Be The 1st To Know About Our Seminars & Receive Updates
On Free Offers We Often Extend To Our Subscribers…
Don't Miss Out! Enter Your Email Below & Subscribe Today